One of my favorite things in the world is the Olympics. Around the time of the last summer Olympics, I had just moved into a new apartment and was going to see how I'd get on without cable. Then the Olympics started, and I immediately caved and signed up for some silly number of channels so that I could get all of the Olympics channels and not miss a thing. I spent almost two full weeks doing nothing but watching the Olympics all day long (and then catching up on things I missed at night).
It was one of my great sadnesses that I wouldn't be able to watch the Olympics this year due to their postponement. I still checked the event updates each morning when the internet came up, but it was not quite the same as watching every event live. However, all was not lost, because each year the Amundsen-Scott South Pole Station hosts the South Polympics!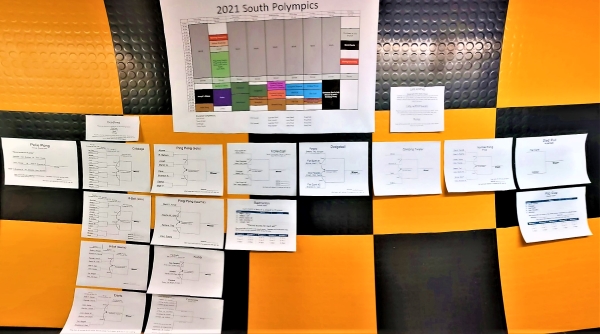 We organized ourselves into 'countries' of four people each (my team represented the 'country' of Winden (it's the town in the Netflix show Dark which we had watched earlier in the season (it's a really good show and you should definitely watch it!)). Of course, everything kicked off with the opening ceremonies; my team and I dressed up in 'traditional' Winden garb (which only really made sense if you'd seen the show) and proudly displayed our flag!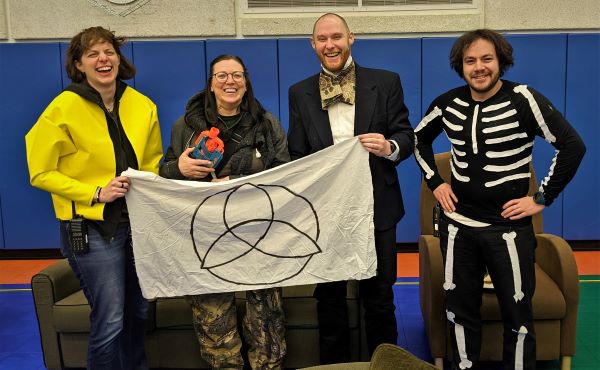 Photo courtesy of Lisa Minelli-Endlich
After a week of intense competition, with events ranging from 'legitimate' activities (i.e. volleyball) to completely random and silly ones (i.e. the saltine challenge), the 'country' of Flat Earth walked away with the most medals! My own 'country' of Winden won gold in darts, silver in cornhole and poker, and bronze in both singles and doubles 8 ball (see, very legitimate Olympic events :p).