I suppose that most people's first white Christmas is not at the South Pole, after all, there are easier ways to be somewhere snowy in December. Nevertheless, here I am, seeing snow on Christmas for the first time while at the bottom of the world.
The holidays were a very busy time here at the South Pole. The festivities kicked off with a gym-turned-movie-theater showing of the Nightmare Before Christmas on December 23. This was another first for me as I had somehow avoided seeing it my whole life, though I surprisingly knew many of the songs. I suppose a decade of Mickey's Not So Scary Halloween and Very Merry Christmas parties will have that effect.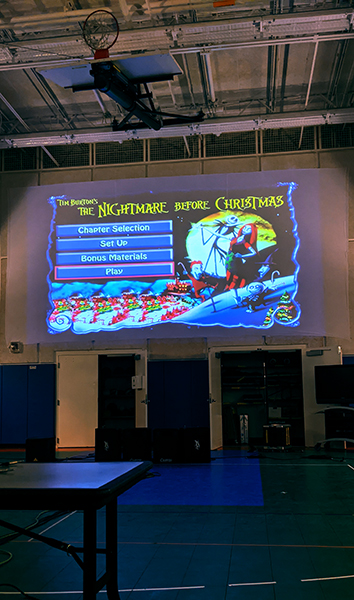 On Christmas Eve we had an open mic concert where the many talented people on station read poetry, told stories, sang songs, and played instruments; there was even a seven-piece ukulele orchestra! It even got a little scary (mostly hilarious) when Krampus and Santa Claus appeared during an acted-out poetry reading.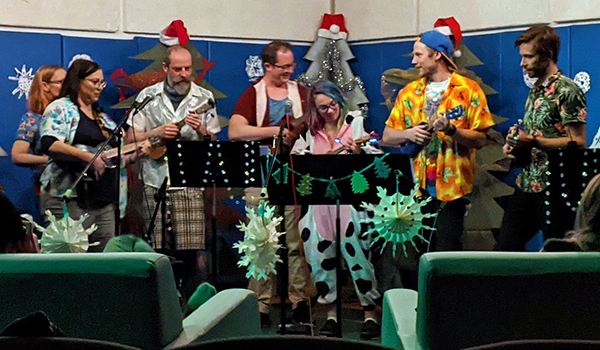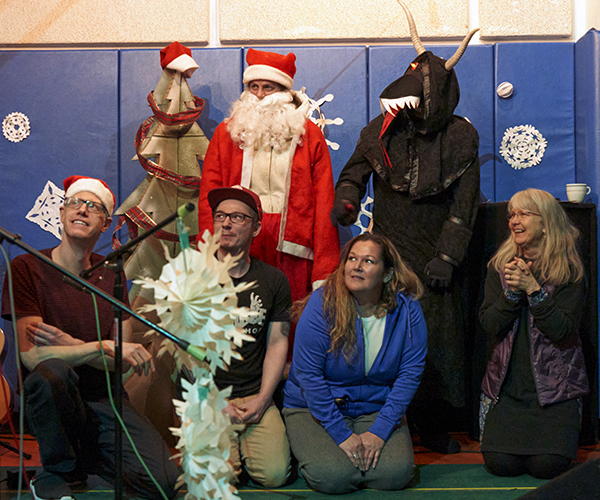 Photo courtesy of Geoffrey Chen
Christmas day brought brunch mimosas and intracontinental caroling. Fueled by mulled wine we, along with carolers from McMurdo and the WAIS (Western Antarctic Ice Shelf) divide field camp, sang carols to each other across the continent. I can't recall ever having gone caroling before but sending out songs over radio waves and hearing others call back doing the same was a pretty magical experience.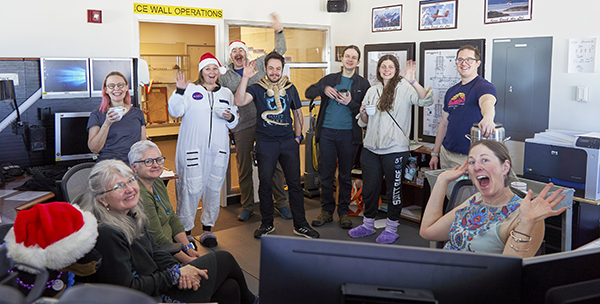 Photo courtesy of Geoffrey Chen
What followed was more gym-turned-movie-theater showings of holiday classics such as Die Hard and Lethal Weapon. The movies finished just in time for me to run to my room and change out of my pajamas into something festive (complete with Christmas lights!) for Christmas dinner. The galley once again outdid themselves, treating us to steak and lobster and an entire waterfall table full of delicious Christmas treats.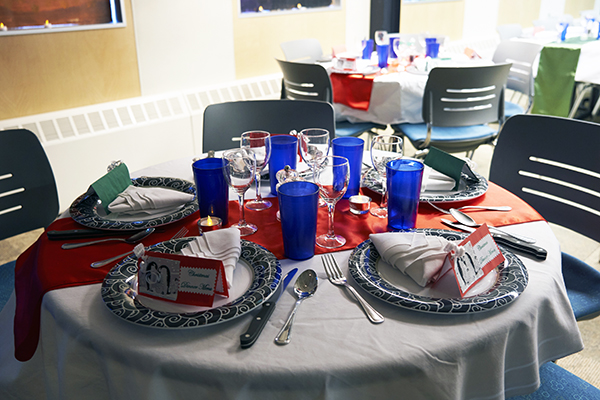 Photo courtesy of Geoffrey Chen
The festivities didn't end on Christmas though. On the day after Christmas, I participated in the annual Race Around the World with several other onesie clad polies (I was a unicorn!). Starting at the ceremonial South Pole we raced about two miles around the geographical south pole and the station while being cheered on by those dancing along to music on the 'party barge'. It was a lot of fun and definitely some good practice for the South Pole marathon coming up in a few weeks' time.
Photo courtesy of Geoffrey Chen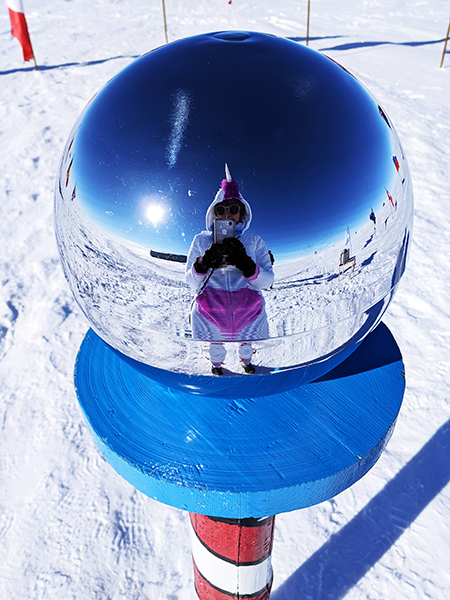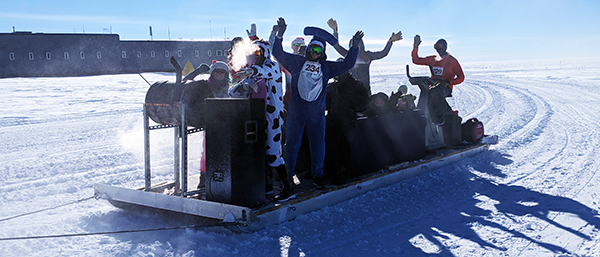 After the race I came inside and curled up with a cup of tea and my Christmas coloring book for some relaxing before our Secret Santa gift exchange. We evidently had a record number of participants and the presents varied from bottles of wine to hand crocheted gloves and hats to a boxed whiskey glass set (made from the bottoms of wine and beer bottles).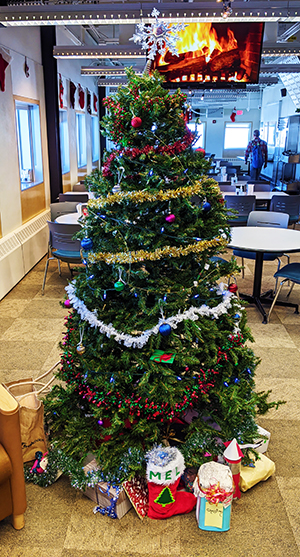 And with that I want to wish everyone a Merry Christmas and a Happy New Year!